Why Visit Iceland in 2023?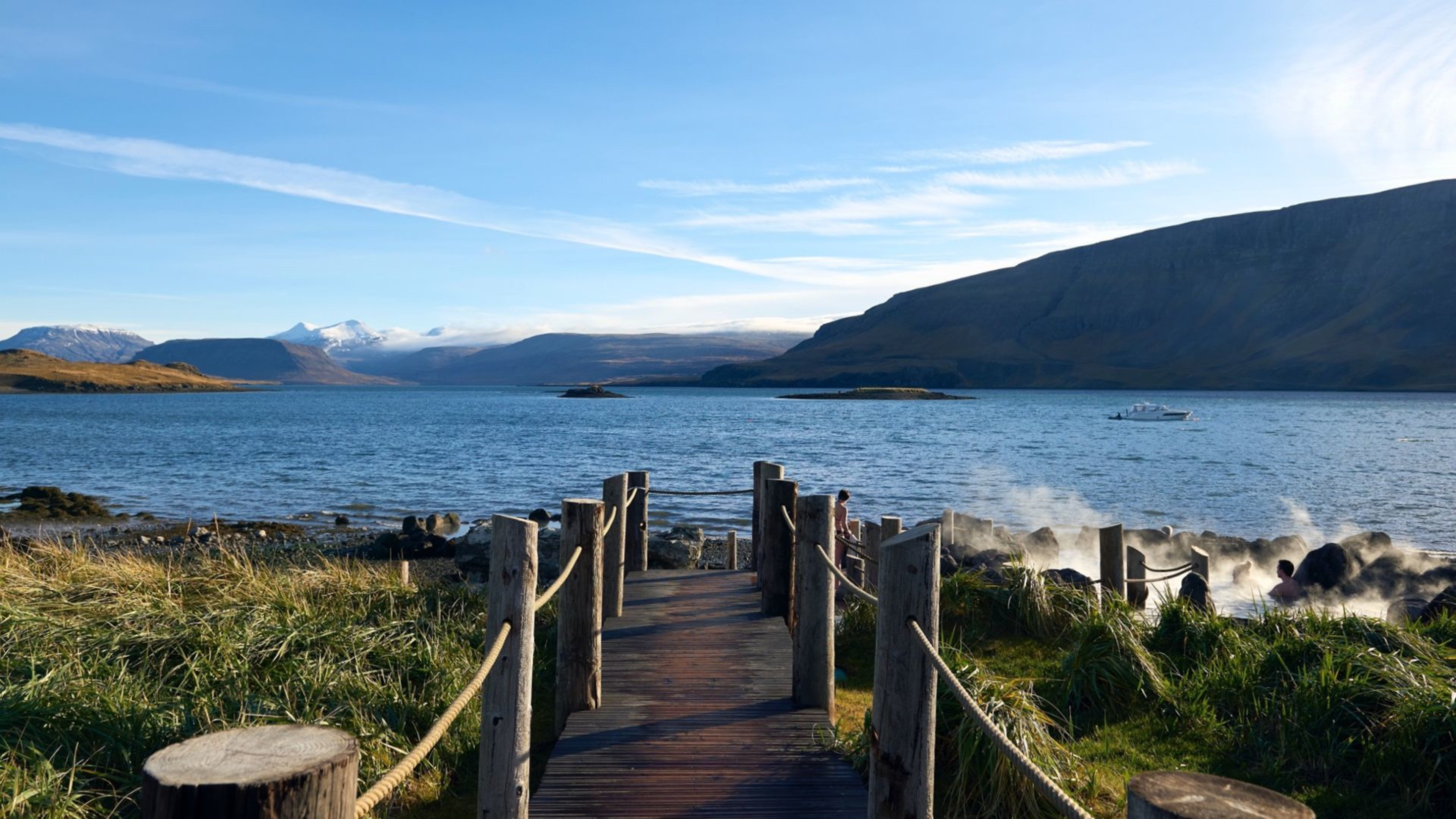 Of all the travel destinations out there, why visit Iceland? And why this year? The Land of Fire and Ice offers pristine landscapes, jaw-dropping natural attractions, and exciting cultural experiences. If you've not checked Iceland off your bucket list yet, 2023 is the year to do it.
With new places to visit and things to do popping up, there have never been more reasons to go to Iceland. From tastebud-tingling food halls in the capital city to new bathing experiences around the country, you're bound to find something that tickles your fancy!
There are plenty of brand-new reasons to visit Iceland in 2023, including:
Wonderful new geothermal bathing experiences to try
An exciting new lava-based attraction
Food halls opening in Reykjavík and Akureyri
Delights of the lesser-visited North Iceland region
Cultural events and music festivals throughout the year
Of course, any of these new attractions can be paired with tried-and-tested favorites, such as:
Classic road trip routes, like the Golden Circle and Ring Road

Bucket-list sights, such as black sand beaches and

ice caves

Northern Lights hunting over the winter season
Outdoor activities, like riding an Icelandic horse or diving in the Silfra fissure
Visiting national parks at Þingvellir or the Vatnajökull glacier
What's new in Iceland for 2023
There are few places in the world better suited to slow travel than North Iceland. This sustainable approach to traveling is all about you forging a connection with the places you visit. You have a deeper sense of where you are in the world, and learn about the local people and culture.
Many people skip North Iceland or just pass through it, but for no good reason. It's got a captivating blend of mindblowing nature, charming villages, and rare wildlife. Here you can go whale watching, soak in a bubbling hot spring, and see a roaring waterfall, all in the same day.
And it's accessible too, with Route 1 (aka the Ring Road), running right through it.
As well as nature, the region delivers on culture too. North Iceland is home to Akureyri, Iceland's second city. The beautiful old town hugs the sides of the Eyjafjörður fjord. In summer, explore the surprisingly lush botanic gardens, or come winter you could go skiing in the mountains.
You're spoiled for choice with local restaurants and boutiques too. Just outside the town, you'll find the newly opened Forest Lagoon (Skógarböðin). This is the only place in the country where you can bathe surrounded by trees.
Drive further north and you'll reach the town of Siglufjörður, known for its wonderfully restored historic buildings. Or instead, you could head east from Akureyri to Húsavík, a fishing village known as the whale watching capital of Iceland.
Come to North Iceland and follow the past less traveled. You're guaranteed to see a different side of the country.
Iceland's known the world over for its volcanic power and moss-blanketed lava fields. It's difficult to get close up to the liquid stuff though. First, it's incredibly dangerous. And second, you have to be there just when it's erupting.
Thanks to Lava Show though, you can now see molten lava flowing just feet away from you in a completely safe environment.
Lava Show has been a popular attraction in the town of Vík, South Iceland for some time. But now you can also experience it in the capital, Reykjavík. Here real lava is superheated and poured out for you to see. As you watch the lava flow, you'll learn about its fascinating properties and how it's formed.
This is the only place in the world where you can get this close to real lava. You can even hear it sizzle and watch bubbles escaping from it. Truly an unmissable experience!
Hvammsvík Hot Springs are the latest way for you to experience the nourishing energy of Mother Earth. You'll find them in Hvalfjörður fjord, around a 45-minute drive from Reykjavík. The fjord is rich in Viking history, having been settled in the 11th century.
At the hot springs themselves, you'll find 8 pools of varying temperatures. Some are connected, whereas others merge with the sea as the tide comes in. The local geothermal well produces water at 90°C (195°F), which is then mixed with seawater to make it suitable for bathing.
The pools have been designed to blend in seamlessly with the environment, and are made from local materials where possible. Enjoy contrast bathing in the cold and warm waters, or you could make use of one the free paddleboards!
There's also a steam cave, in-water bar, and indoor and outdoor changing facilities. If you're feeling brave, why not do as the locals do and get changed outside?
Afterward, you can tuck into a tasty light bite at the Stormur bistro. There are also excellent hiking trails in the area, including to the Glymur waterfall, the second highest in Iceland.
Food halls have taken Iceland by storm since the first one opened in downtown Reykjavík at the old Hlemmur bus station in 2017. They've quickly become a firm favorite among locals and visitors alike.
If you've never eaten at a food hall before, you might be wondering what the fuss is about. You'll find a selection of restaurants serving up dishes made from local ingredients, but with flavors from around the world. The prices are normally more wallet-friendly, and you can be sure everyone you dine with will be able to get something they like.
The latest addition to the scene is Pósthús Food Hall, in a former post office on Austurstræti. This is in the heart of Reykjavík's bustling city center. The building has been lovingly restored and transformed into a food hall. You'll find the best seats in the house under the glass roof at the back.
Walk in and you'll be hit with aromas from all kinds of cuisines, including Italian, Indian, Japanese fusion, and more. It's definitely worth stopping by here for a snack, lunch, or dinner.
There are 2 main seasons for cultural festivals in Iceland: summer and autumn. From June to August, you'll find loads of fayres in small towns around the country. This is also the season for outdoor music festivals, such as Secret Solstice and Þjóðhátíð.
In late autumn, the main event is Iceland Airwaves. This indoor music event is spread over venues across Reykjavík, so no matter what the weather's doing, the show goes on.
When is the best time to visit Iceland in 2023?
Choosing when to go to Iceland might seem tricky, but it just comes down to what kind of experience you want to have.
If chasing the aurora borealis is top of your list, then you need to go in winter, as they only appear in dark skies. Plus, you'll be able to see Iceland in its snowy, icy glory (a sight definitely worth seeing). Winter is long in Iceland, but October, November, December, and January are all popular months to visit.
Planning your 2023 trip to Iceland
If you're thinking about traveling to Iceland in 2023, how do you go about planning everything?
First of all, decide how you want to travel. Are you happy to take the wheel yourself and have the freedom to go wherever you like, whenever you like? In that case, an Iceland self-drive tour is for you.
On the other hand, if you'd rather not drive, you might prefer a multi-day tour from Reykjavík. Travel this way and you would join day trips into the countryside by bus. For a more social experience and expert guidance, a guided group tour is great option.
If you're planning a summer trip, you might even consider a camping itinerary so you can get close to nature. At the other end of the spectrum, a private tour might suit you if you want to take advantage of the knowledge of a local guide.
With Iceland Tours, you get accommodation, local transport, and an itinerary arranged for you. This means less stress, and more time getting excited about your Iceland vacation.
You can now secure your booking with just a 5% deposit. So why not book an Iceland vacation package today and start looking forward to your 2023 Iceland adventure?
About the author
Max has been back and forth from Iceland since 2009. He lived and worked there for several years, and although he's moved away, he left a piece of his heart there. When he's in Iceland, he loves to relax in the 'hot pot', chow down on some local food, and catch up with friends. He speaks Icelandic fluently, so if you need to know how to pronounce 'Fagradalsfjall', he's your guy.
View more posts by Max
Related articles
Read more from our Fire and Ice blog.