How Many Days Do You Need in Iceland in Winter?
Iceland is a truly awesome destination for winter adventures. Frozen waterfalls, bubbling hot springs, and a chance to chase the Northern Lights. You'll leave spellbound by these magical landscapes, with the pics to show for it!
But how do you know how many days to spend in Iceland in winter? The short answer: the longer you stay in Iceland, the more epic your adventure will be. That said, a winter trip to Iceland in 3 to 4 days is totally doable.
You're probably wondering exactly how many days in Iceland in winter is enough.
A short trip will probably just about whet your appetite and leave you wanting to come back ASAP. If you want to take it slower and have more time to soak up each destination, 7 to 9 days is a great itinerary length.
We get that you might not have that long to spend in Iceland, so this guide will give you ideas for both short and long itineraries, and everything in between. Scroll down for all the inspo.
Winter Iceland in 3–4 days: Golden Circle highlights
If you've only got a few vacation days left to use at the end of the year, a 3–4 day itinerary is definitely an option. It's perfect if you just fancy a long weekend in Iceland.
With an Iceland 3-day winter itinerary, you've got enough time to soak in the Blue Lagoon, hit the capital Reykjavík and do the Golden Circle tour. This classic self-drive route covers 3 of Iceland's must-see nature spots:
Þingvellir National Park

– See where the European and North American tectonic plates are drifting apart, and the site of Iceland's Viking-age parliament.

Geysir

– Check out the famous hot spring that gave us the word "geyser", and its active younger brother Strokkur.

Gullfoss

– This epic waterfall often freezes over in winter, creating icicles taller than church spires.
Get a clear night on your 3-day trip and you could catch a glimpse of the Northern Lights. If aurora hunting is top of your list though, you'll have a greater chance of seeing them with a slightly longer stay.
On a 4-day trip, you have the option to base yourself in Reykjavík and skip the driving. From there, you can go on tours led by a local guide and do some day exploring. Follow the Golden Circle route, or head further afield if you want.
4-day winter Iceland itinerary
Day 1 – If your flight lands early enough, dip into the warming Blue Lagoon on the way to Reykjavík. When you arrive in town, get a view of the snowy city from the Hallgrímskirkja church tower or Perlan viewing deck. Afterward, warm up with a hot chocolate and slice of Icelandic cake at a local café.
Day 3 (Option 1) – Start your day with a dip in one of Reykjavík's swimming pools (even better when the weather is freezing – trust us!). Then hit the city's culture scene. Why not explore the museums and art galleries, or go to a live gig at a local bar?
Day 3 (Option 2) – Squeeze in some more nature with a day trip to the south coast. See the spectacular Seljalandsfoss and Skógafoss waterfalls and the sleepy village of Vík. Or if you're feeling adventurous, go on an ice cave tour in a super jeep with Into the Glacier.
Day 4 – Transfer to Keflavík Airport and return home. If you didn't get a chance to stop at the Blue Lagoon on your way into town, you could add a stop on your last day depending on your flight time.
Winter Iceland in 5–7 days: Slow down and see more
A winter trip to Iceland is a real magical adventure. Whilst 3–4 days will allow you to see the main highlights, adding a couple of days to your trip is an absolute game-changer!
On a 5-day winter itinerary in Iceland, you can explore the Golden Circle and waterfalls of South Iceland on a self-drive tour. Set your own pace, crank up the tunes, and stop off whenever you like.
Spending 7 days in Iceland in winter means you can go further along the south coast, as far as the jaw-dropping Jökulsárlón glacial lagoon. You could also venture west to the Snæfellsnes peninsula, with a glacier of its own and epic coastal scenery.
Because you'll have the extra time, you can spend longer at each stop and make the most of it. What's more, you'll be able to travel further away from Reykjavík and stay in the Icelandic countryside.
But maybe the best reason to add a few extra days is to boost your chances of seeing the Northern Lights. Although the Icelandic weather changes fast, you're more likely to get one or two cloudless nights the longer you stay.
Here's one option for a 6-day winter itinerary in Iceland.
6-day winter Iceland itinerary
Day 1 – Pick up your rental car at the airport and head straight for Reykjavík. Iceland's capital is full of cool cafés, buzzing nightlife spots, and unique dining experiences. Take a dip in the local swimming pool, before grabbing street food at one of the city's food halls.
Day 2 – Head out of the city and straight to Geysir, where you can see the Strokkur geyser erupt. Then continue to the Gullfoss waterfall which can freeze completely solid in the winter. Afterward, why not warm up in the waters of Gamla laugin (the Secret Lagoon) in Flúðir?
Day 3 – After waking up in Selfoss, head to the nearby Seljalandsfoss waterfall. You can actually walk behind this one! Then follow the coastal road to the extremely grammable Skógafoss. Finally, stop off in the cute village of Vík with its fantastic black sand beach.
Day 4 – Spend the morning exploring Þingvellir National Park. This magical place was the site of Iceland's first parliament, the Alþingi. Then head up to Hraunsfossar and Barnafoss, where two waterfalls converge. Finally, check out Deildartunguhver, where you can see water actually boiling in the ground.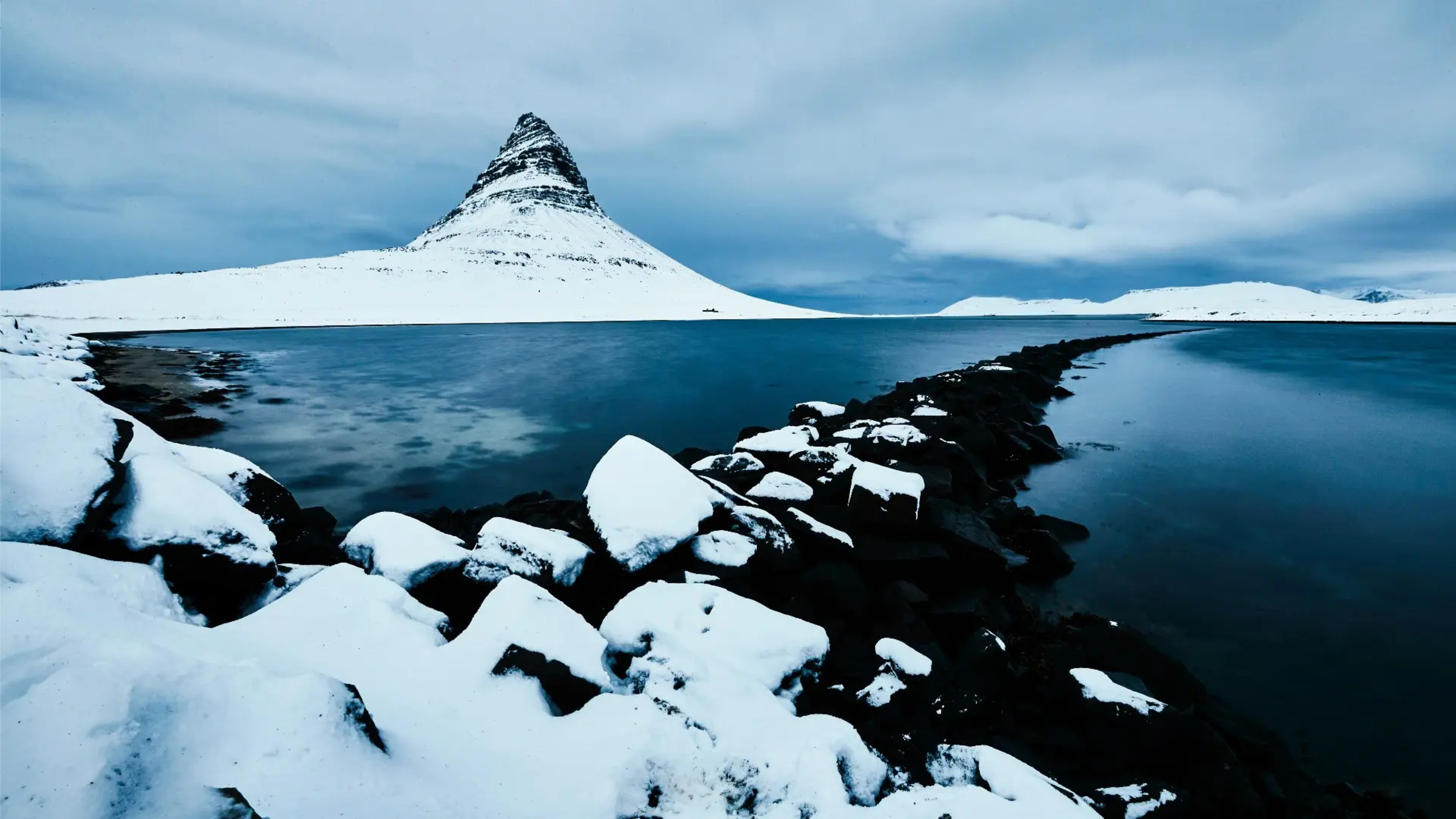 Day 5 – On your final full day, drive to the Snæfellsnes peninsula in West Iceland. Check out the black sand beaches and unusual coastline features, like sea stacks. Visit the iconic Kirkjufell mountain (above) and the cascading waterfall just a stone's throw away.
Day 6 – Wake up in Reykjavík and have breakfast before leaving the city. Drive your rental car back to Keflavík Airport. If you have time, you might also be able to fit in a visit to the Blue Lagoon on the way to the airport.
Winter Iceland in 8–10 days: Circle the whole Ring Road
On an 8–10 day tour, you're gonna have time to see pretty much the whole country. The main road around the island is known as the Ring Road, or Route 1. Follow it and you can't go wrong – you're guaranteed amazing views the whole way round.
On an Iceland 8-day winter itinerary, you have time to explore the north of the country. There you'll find Akureyri, the biggest town in the north (below). Further east is Lake Mývatn, which is a hotspot of geothermal activity.
Then you can swing round the east coast, passing through the atmospheric Eastfjords. Keep following the Ring Road and you'll end up at Jökulsárlón glacier lagoon. Now you're on the south coast with its legendary waterfalls and black sand beaches.
You'll also have enough time to fit in the Golden Circle and spend a night or two in Reykjavík, rounding out your Iceland travel experience.
On an Iceland itinerary for 10 days in winter, you have even more time. This means you can head off the Ring Road to the Snæfellsnes peninsula for some more glacier action.
Here's an idea for an 8-day self-drive itinerary.
8-day winter Iceland itinerary
Day 1 – Land at Keflavík Airport and pick up your rental car. Drive through the lava field of the Reykjanes peninsula to the capital, Reykjavík. Why not grab a bite to eat or sip on a local drink on your first evening in the city?
Day 2 – Today you'll head north to the town of Akureyri. The journey is as exciting as the destination. On the way, check out the Hraunfossar and Barnafoss waterfalls. And stop at the Deildartunguhver hot spring to stand in the warm (slightly smelly) steam!
Day 3 – Head over to Lake Mývatn. On the way from Akureyri, stop off at the Goðafoss waterfall (above). When you arrive at the lake, check out the Dimmuborgir hot spring caves or hike the Hverfjall crater. Warm up afterward in the soothing waters of the Mývatn Nature Baths.
Day 4 – You'll hit the hay in the town of Egilsstaðir tonight. On your way there from Mývatn, see boiling mud pools at the Námaskarð hot spring. And drive through the out-of-this-world lava field near Krafla.
Day 5 – Venture through the Eastfjords, stopping at its unique villages like Fáskrúðsfjörður, where all the street signs are in French. See the collection of giant stone eggs (yes, really!) in Djúpivogur. That evening, hunker down in the harbor town of Höfn.
Day 6 – Today you're gonna see ice in all its forms. As you follow the Ring Road south, Europe's largest glacier, Vatnajökull, will watch over you. Your first stop is at Jökulsárlón, where you can see baby icebergs drifting out to sea. Skaftafell Nature Reserve is next up, with its amazing Svartifoss waterfall set against hexagonal columns of lava.
Day 7 – This morning you'll wake up in the village of Vík on the south coast. After breakfast, head to the Reynisfjara black sand beach. As you approach Reykjavík, you'll turn off onto the Golden Circle route, where you can see the Strokkur geyser and ice-studded Gullfoss waterfall.
Day 8 – After seeing more waterfalls and forms of ice than you knew existed, you'll wake up in Reykjavík. Depending on your flight time, you might be able to squeeze in a dip in the Blue Lagoon before returning your rental car at the airport.
What can you do in Iceland in winter?
Hopefully now you're brimming with ideas about what you want to see when visiting Iceland in winter. You might be wondering about some other bucket-list experiences and whether you'll be able to fit them in.
If you've never visited Iceland in winter, keep in mind the shorter hours of daylight. If you build them into your plan, you can make the most of every single daylight hour there is.
Our top tip is to hit the road before the sun rises. That way when you get to the awesome attraction you want to see, the sun will already be up. This also gives you more time to get to your next stop before the sun goes down.
Below we've listed some of the most popular things to do in Iceland in winter, and how long you'll need to spend in the country to fit them in:
Ice caving

–

Recommended itinerary:

4 days, guided

. To see the ice caves, you'll need to join a guided

adventure tour

(going solo is definitely

not

an option). This makes it a perfect activity to slot into a 4-day Reykjavík-based itinerary.

Jökulsárlón Glacial Lagoon

–

Recommended itinerary:

5 days+

. The Jökulsárlón lagoon is in southeast Iceland, so you'll need to spend a bit longer in the country if you want to see it.

Northern Lights

–

Recommended itinerary:

4 days+

. Forecasting the Icelandic weather is a dark art, but predicting the Northern Lights is even harder. A longer stay in Iceland will give you a much better chance of seeing nature's light show.

Icelandic horses

–

Recommended itinerary:

4 days+

. You can spot cute Icelandic horses all over the country from your car window. On a longer itinerary you could ride an Icelandic horse if you like.

Waterfalls

–

Recommended itinerary:

Any!

Iceland is bursting at the seams with waterfalls. Even on a 3-day trip, you can see the epic Gullfoss. Add an extra day and you get Seljalandsfoss and Skógafoss too. It's really your call, but basically more days = more waterfalls.
How can you experience Iceland in winter for yourself?
No matter how many days you have to spend in Iceland in wintertime, you're not gonna be disappointed. That said, there's no getting round the fact that a longer trip means you can pack in a lot more.
Short trip or long, you'll want to be back in the Land of Fire and Ice as soon as you can anyway.
With Iceland Tours, you have the freedom to travel however you like. Take a self-drive tour and go your own way. Or join the gang on a guided group tour. The choice is yours!
About the author
Max has been back and forth from Iceland since 2009. He lived and worked there for several years, and although he's moved away, he left a piece of his heart there. When he's in Iceland, he loves to relax in the 'hot pot', chow down on some local food, and catch up with friends. He speaks Icelandic fluently, so if you need to know how to pronounce 'Fagradalsfjall', he's your guy.
View more posts by Max
Related articles
Read more from our Fire and Ice blog.