Discover the Ring Road on with your own private guide
On this trip of a lifetime, you'll explore the Ring Road with a local driver-guide. With their insider knowledge and passion for Iceland, you're sure to have a memorable experience!
Travel style
Privately guided
Trip length
8 days / 7 nights
Season
Summer
(1 Apr–31 Oct)
Transport
Rental car with driver
On this tour you will...
Head to Snæfellsnes peninsula, home to a glacier-topped volcano

See dazzling icebergs bob out to sea from Jökulsárlón glacier lagoon

Hear the folk tales surrounding mysterious spots like the Dimmuborgir lava field

Check out awe-inspiring waterfalls like Skógafoss, Seljalandsfoss, and Dettifos

Look out for whales and puffins as you trace the country's stunning coastline

Dive into the local culture, food scene, and nightlife in downtown Reykjavík
Top attractions
Snæfellsjökull Glacier & National Park
Skaftafell Nature Reserve
Jökulsárlón Glacier Lagoon
Hraunfossar and Barnafoss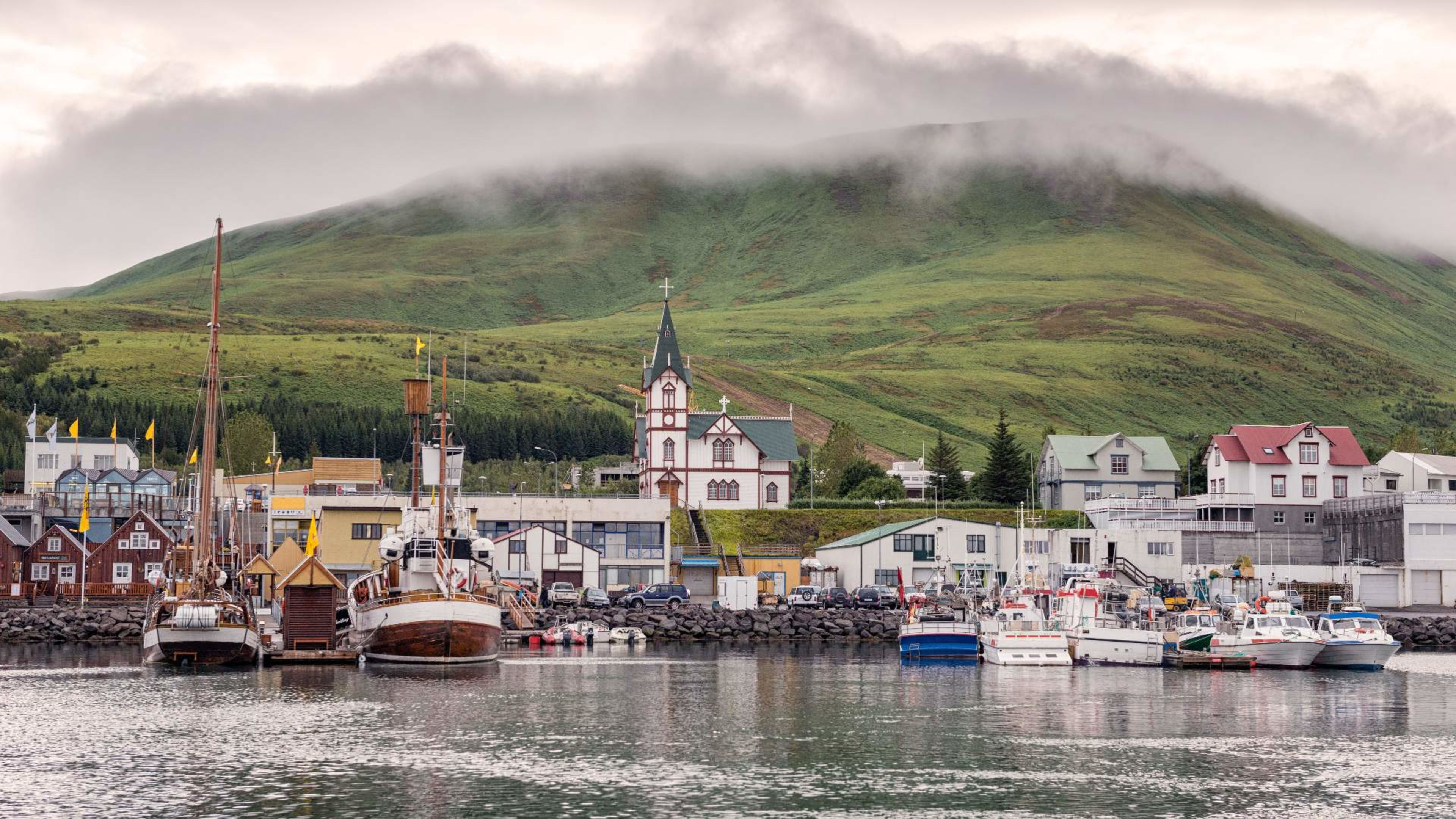 Why book a privately guided trip with Iceland Tours?
Let your own driver take you around Iceland

Expert local guidance in English

Start your tour on the date that suits you

24/7 emergency helpline in Iceland

Secure your booking with just a 5% deposit

Handpicked local accommodation options
Your 8-day privately guided itinerary
Staying in
Snæfellsnes area
Driving distance
302 km (188 mi)
Your memorable Icelandic adventure begins today. Your personal driver-guide will pick you up from your hotel and take you to explore the natural wonders of the Snæfellsnes peninsula. You will discover several sites including the Eldborg volcanic crater, Gerðuberg basalt columns, Búðir, and Djúpalónssandur with views of the majestic Snæfell volcano.
Highlights
Snæfellsjökull Glacier & National Park
Extra activities
Extra
Staying in
Borgarfjörður area
Driving distance
205 km (127 mi)
From Stykkishólmur, the guide will take you to the south-west of Iceland towards Borgarfjörður, an area rich in heritage as its vast lands served as the setting for many Icelandic sagas. It is also home to gorgeous waterfalls and the Langjökull glacier.
Driving distance
315 km (196 mi)
Today's itinerary takes you north as your guide drives you through thick farm fields and the Skagafjörður region, which is known for Icelandic horse breeding. You will surely encounter several of these adorably stocky horses grazing in the fields along your way to Akureyri. Before you reach the "capital of the north", you will take a few detours such as the Vatnsnes peninsula where you can spot seals, and Glaumbær, a turf-house museum, among other sights.
Staying in
Mývatn/Húsavík area
Driving distance
120 km (75 mi)
More natural wonders are on the program today! Our first stop is at the impressive Goðafoss, known as "the waterfall of the gods". Before heading to Mývatn, you will visit several awe-inspiring attractions such as the Dimmuborgir lava field labyrinth and the pseudo-craters of Skútustaðir. You will also get to walk through one of Iceland's largest sulphurous hot spring areas, the solfataras of Námaskarð.
Staying in
Egilsstaðir area
Driving distance
275 km (171 mi)
Before heading east, you will continue exploring the northern part of the country. The peninsula of Tjörnes has many surprising sites in store for you. There is the lush green area of Ásbyrgi, a horseshoe-shaped gorge, and the impressive Dettifoss with a fall so powerful that you will feel the ground shake under your feet.
Driving distance
185 km (115 mi)
Today you discover the East Fjords. Your driver will start towards Reyðarfjörður, where you could visit a small but interesting World War II history museum. Then you'll continue along the fjords toward south-east Iceland. At times, the roads are perched high on the mountains giving exceptional views. Finally, you'll pass through the tunnel of Almannaskarð to arrive in the Höfn region for an overnight stay.
Driving distance
275 km (171 mi)
Our next stop is Iceland's scenic south-east. After passing various outlet glaciers belonging to Vatnajökull, Europe's largest ice cap, you'll arrive at the stunning, surreal beauty of Jökulsárlón, a glacial lagoon. This exceptional natural attraction sits at the foot of Iceland's highest mountain Hvannadalshnúkur. It offers the unique possibility to explore it up close by taking a guided boat tour between the floating icebergs.
Next you get to visit the Skaftafell Nature Reserve, an oasis surrounded by glaciers and black sand beaches with a broad range of options for spectacular hiking. You'll then continue through Kirkjubæjarklaustur, the Eldhraun lava field and the Mýrdalssandur plain before arriving in the Vík area.
Driving distance
300 km (186 mi)
Today, your guide will drive along the south coast of Iceland, exploring many breathtaking landmarks such as Skógafoss and Seljalandsfoss waterfalls. You'll also explore the highlights of the Golden Circle with its three-tiered Gullfoss waterfall, geyser area where Strokkur ejects its warm water column in the air every 5-10 minutes, and the famous Þingvellir National Park.
After visiting Þingvellir, it is now time to head back to the capital where your private Iceland adventure ends. If you are staying extra nights in the capital, we can help you plan some optional activities. Please contact your travel consultant for more information.
What's included?
Comfort or Quality accommodation every night
Continental breakfast every day
Rental car of your choice for 8 days
24/7 emergency helpline when you're in Iceland
VAT, taxes & service fees
Accommodation in Reykjavík
Food & drink, unless otherwise stated
Attraction entrance fees, unless otherwise stated
Personal travel insurance
Choose your rental car
Private driver
Unlimited in-car Wi-Fi
CO₂ 213g/km
Toyota Land Cruiser 4×4 or similar
CO₂ 198g/km
Volkswagen Caravelle 4×4 or similar
CO₂ 213g/km
Toyota Land Cruiser 4×4 or similar
CO₂ 198g/km
Volkswagen Caravelle 4×4 or similar
FAQs about our private guided trips
All of our private guided tours start in Reykjavík. Here your driver-guide will pick you up from your accommodation and you'll hit the road.
With your enthusiastic guide leading the way, you will head out into the Icelandic countryside. As you're immersed in the country's incredible nature, you'll learn from your guide about the places you're visiting.
Once you've arrived at your accommodation for the night, you and your guide will say goodbye until the morning. You'll have time to yourself to enjoy dinner and recharge before the next day's adventure.
At the end of your tour, you'll be dropped off back at your hotel in the capital.
Good to know: Our private tour packages do not include hotel stays in Reykjavík at the start or end of the tour, or a transfer from the airport as standard. If you'd like us to arrange this for you, please let us know in the 'Special requests' box at checkout.
You'll get to meet your guide for the first time when they collect you from your hotel in Reykjavík. Over the course of your trip, you'll have the chance to get to know them and swap stories and jokes!
Guidance is in English as standard, although if you would like a guide that speaks a different language, please let us know in the 'Special requests' box at checkout.
We can't guarantee that a guide that speaks a language other than English will be available for your selected tour dates, but we'll do our best to honor your request.
It's normally possible to book a guide that speaks Spanish, French, Italian, German, Dutch, or a Scandinavian language. Note that there may be an additional charge for a non-English-speaking guide.
In Iceland, tipping is not commonplace in restaurants, hotels, taxis, and the like.
That said, if your guide goes above and beyond to make your tour extra special, they would graciously receive a tip. Just know that it's not expected, so it's totally up to you.
You can customize your trip to Iceland with extra days in Reykjavík at the start or end of your trip. This is your chance to pack in day tours and activities like snowmobiling and ice caving.
Soon you'll be able to add these customizations yourself on our website. Until then, just let us know in the 'Special requests' field at checkout if you want to add activities or extra days to your trip.
If you want to customize the itinerary of your actual guided tour, contact us and we'll be happy to help. Just so you know, there's an extra fee for this service. See our terms and conditions for all the details.
Don't take our word for it
See what hundreds of fellow travelers have to say about their trips with Iceland Tours.
Read customer reviews