10 Iceland Attractions You Must Explore Close to Reykjavík
Iceland is known globally for its abundance of stunning natural wonders. The recognition is well deserved, but what truly makes it stand out from other countries is the short distance between these attractions.
At every turn, there is a new sight, prettier than the last and you will barely have enough time to comprehend the last when you have already arrived at the next one.
Glaciers, waterfalls, black sand beaches, moss covered lava fields, volcanoes, and more await anyone who visits. Some say that driving around Iceland feels like a few different planets and we couldn't agree more. Luckily, many of these locations are only about an hour away from the capital and close to one and other so you can easily see so many of them in the same day trip out from the city.
Let's learn about these stunners!
Top 10 attractions near Reykjavík
You might think you need to travel far to witness these gentle giants in the natural habitat but in Iceland, there is really no need. The whale watching boats take off right from the old harbor in downtown Reykjavík and you will be in the midst of it all in less than an hour!
Watch the humpbacks playfully jump around with Harpa concert hall in the background, creating the most dazzling mixture of nature and city. This is your chance to get to know them up close and personal but still leaving enough time for other activities that day.
2. Þingvellir National Park
Þingvellir (Thingvellir) National Park is one of the more historic places you'll find in Iceland. It is where the Icelandic parliament was founded in the year 930, making it one of the oldest in world history.
From that time, the Vikings would annually come together to rule in matters and settle disputes. This event was the biggest and most important gathering of this time and most of them are recorded in detail in the writings from the period.
Nowadays, it is renowned for its natural beauty, rugged lava, birch trees, waterfalls, and glacial water-filled ravines. It is a UNESCO-listed heritage site and one of the filming locations for Game of Thrones. The towering lava rocks of Lögberg acted as the fortress around the Eyrie and play a vital part in many of those scenes.
It is one of the three stops that make up the Golden Circle, Iceland's most popular tour and a real must-see while in Iceland.
Gullfoss or 'Golden Falls' is located about 1.5 hours away from the capital. It runs through a glacier-carved gully and drops two stories down, creating the most awe-inspiring visuals. It is one of the 3 stops on the Golden Circle and for many the ultimate highlight. Its water originates in the Langjökull glacier, which is located a bit further north in the highlands and therefore changes color seasonally.
The location has 3 different viewing platforms to enjoy the waterfall. We recommend to take your time and explore all of them. This place is surely worth it!
Lots of people don't know this, but this Geysir is the namesake of all the geysers of the world. It is Iceland's geological pride and joy and undoubtedly a token of the island.
It used to spout up into the air, higher than the tallest building in Iceland and lasted for hours on end. Unfortunately, an earthquake stopped it from going off in recent times but his baby brother now holds the fort.
His name is Strokkur and he sure knows how to put on a show. This frolic water wonder goes off every 4–10 minutes with a jaw-dropping audience to witness and never fails to amaze.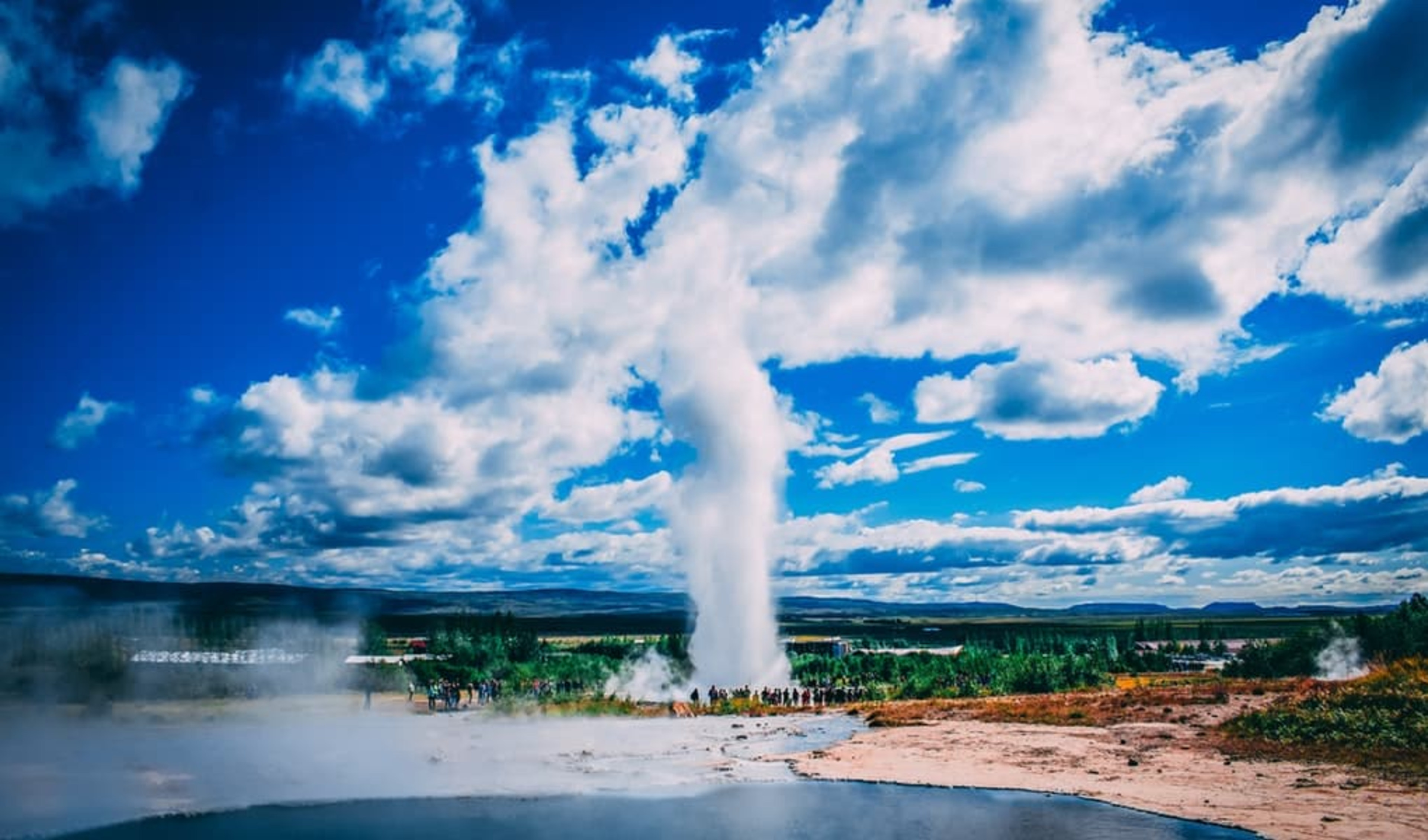 Seljalandsfoss was first made world-famous when it appeared on the show Amazing Race, but now it is known as the 'waterfall you can walk behind'.
Seljalandsfoss originates in the voluminous Eyjafjallajökull glacier volcano that made the headlines in 2010 when it stopped all air traffic when it erupted out of the blue. Its smoke pillar clouded the view and no one could fly over the country.
Thankfully the world quickly forgave Iceland. Now the waterfall and its feeding glacier volcano are some of the most sought-after attractions in the country.
The waterfall is located only about 1 hour and 25 minutes away from Reykjavík.
The Skógafoss waterfall is a powerful chute on the south coast of Iceland. It has appeared in numerous TV shows and Hollywood movies. Some of the better-recognized ones are Vikings, Thor, and now Game of Thrones season 8!
Legend says that there is hidden treasure behind it guarded by the forces of the falls. Whether you believe it or not one thing is for sure, no one should go looking for it.
You can walk along a hiking trail up to the drop of the falls and enjoy the waterfall from different angles and perspectives. This place is a remarkable sight and simply a must-see while in Iceland!
The capital of central South Iceland is Vík in the Mýrdalur valley. It sits right between the volcano Katla and Reynisfjara black sand beach. Surrounded by other stunning locations such as the unbelievable Yoda Cave and Dyrhólaey cape. It is the last town you will see for an hour. So if you are planning on going further east, make sure to fuel up here.
The new Lava Show in Vík is getting excellent reviews. The food at the local restaurants is exquisite and the walk down to the black sands is a must. A town of great views and culture!
8. Reynisfjara black sand beach
Reynisfjara black sand beach is a place of mystery, great natural beauty, strength, and splendid views. Taking a deep breath while standing on the black volcanic sand is a feeling you will cherish for a lifetime.
Make sure to explore the hidden gems inside the basalt caves and stay at a good distance from the waves. They are known to sweep people quickly. Stay well ashore to stay safe and in the best spots to enjoy the vista!
9. Friðheimar organic tomato farm
Friðheimar is located in the Flúðir area, known as one of the most active geothermal areas in Iceland. The locals know how to harness this earthly strength and grow vegetables and bathe in hot springs all year round. Friðheimar's main focus is tomatoes but they have also been testing the waters with cucumbers and herbs.
The Friðheimar farm has the most charming restaurant located inside one of their greenhouses. A place where you can enjoy all their green goods and the different ways tomatoes can be served. You will be surprised! Truly a unique experience.
If you have seen a photo from Iceland chances are it has been of the Blue Lagoon. Its combination of unbelievably blue natural healing waters and the surrounding jet black lava is only found in Iceland. So, people travel from all over the world to see it.
The lagoon sits on the Reykjanes peninsula, which takes its name from the geothermal area it sits. Reykur means smoke so it is quite literally called the 'Smokey Peninsula'.
The Blue Lagoon has an in-water bar and a place where you can get in water-massages and spa treatments. They also have a world-class restaurant and a special facial mask bar. You will have plenty to do and indulge in at the Blue Lagoon!
Want to explore all these locations?
One of the most common questions we get is where travelers can go and what they can see on day trips from Reykjavík. Staying at the same nice hotel in the city can make for a lot less hassle. It can also create room for different culinary and night-time experiences, as Reykjavík is known as a lively and colorful city.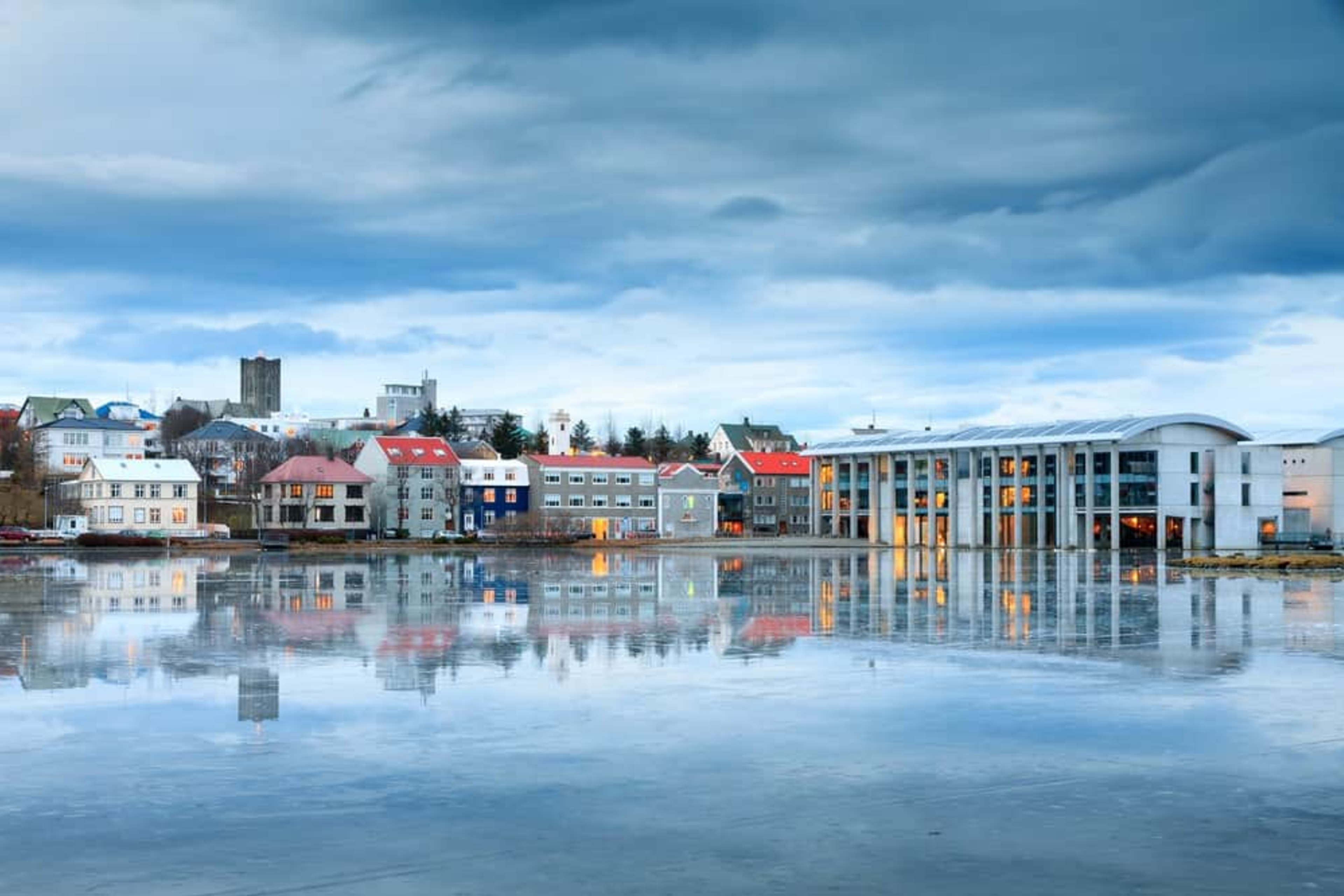 On a multi-day trip from Iceland Tours, you'll stay at the same hotel in Reykjavík for the length of your trip. Each day you'll join a new and exciting excursion into the countryside.
About the author
Ragnheiður is a nature lover first and foremost, having studied anthropology and media at university. She also loves sharing her passion about her home country, Iceland, with everyone she meets. You'll often find her traveling the Icelandic countryside, especially the Westfjords and south coast, although her hometown is Reykjavík. Her interests include Icelandic food and drink, plants and wildlife, and cultural traditions.
View more posts by Ragnheiður Harpa
Related articles
Read more from our Fire and Ice blog.