What to Know Before Traveling to Iceland
Before the glacier volcano Eyjafjallajökull erupted in 2010, many people didn't even know Iceland existed.
I was once asked when I told someone that I was from Iceland if it was a city in Utah. Little did this person know that not only is it a country of its own, but it is also substantial island located in the far north of the Atlantic Ocean.
Iceland is filled with glaciers, volcanoes, geysers, hot springs, and its people have their own language. We have our own currency, our own president and have even provided the world with brilliant musicians such as Björk, Kaleo, and Of Monsters and Men. There are endless facts that we could point out about Iceland, some weirder than others but, before you visit these ones are essential to your learning.
15 things to know before traveling to Iceland
1. Thermals or wool underwear are a necessity no matter the season
This means thermals and/wool underwear in your bag or on you at all times. This really is a better-be-safe-than-sorry kind of packing essential.
2. In winter you'll have limited daylight, plan well!
When it comes to light, Iceland truly is the land of extremes. Famous for the midnight sun in the summer, the island brings quite the payback in winter covering our skies with darkness for almost 20 hours a day on the shortest days of the year.
However, this time is also when it is best to see the Northern Lights so a lot of people like to visit during this time. It's also worth noting that there is partial light as the sun rises in the morning and in the late afternoon as the sun sets. Our only advice is to plan the trip well. Don't expect to see everything and be ready to change your plans.
3. Tours, admission tickets, and dinner reservations need to be made in advance
There are only 360,000 Icelanders, so tour guides and restaurants are limited. Due to this reason, things get booked up. This is the case with the most restaurants (which tend to be exceptionally good!) and also with attractions such as the Blue Lagoon. Don't wait until the last minute and miss out.
4. You'll need a sleep mask if you are visiting in mid-summer
The midnight sun is no joke, that thing will shine almost throughout the night making it close to impossible to sleep for some. This is why a sleep mask of some sort is a clever item to pack. Do not worry too much though, most hotels have black-out drapes that help as well.
5. You can use credit cards almost anywhere
With the exception of American Express, all major credit cards are accepted in Iceland for virtually any transaction (no matter how small!). It is virtually a cashless society. This is why it is important not to take out too much cash and to remember your pin (if your card is pin-operated).
6. Icelandic babies take their naps outside and it is totally normal
No, this is not a case of neglect. Iceland is a remarkably safe country with clean, fresh air. It's an old tradition and we see no real reason to change it because the fresh air helps babies sleep better and longer.
Don't freak out if you spot a baby carriage left alone. There is always someone close by – even if peering through a window of a shop or café – keeping an eye on their little one.
7. The Golden Circle and Blue Lagoon are must-dos!
Both of them might be a bit touristy in a sense but you would never visit Paris without seeing the Eiffel Tower now, would you? They are simple must-dos. The Golden Circle is made up of 3 stops, the historic Þingvellir (Thingvellir) National Park, the powerful waterfall Gullfoss and then the namesake of all the world geysers, Geysir in Haukadalur.
The Blue Lagoon has been named one of the wonders of the world and its turquoise blue waters possess healing powers. If that isn't enough, then let me tell you that there is an in-water bar!
8. Alcohol is insanely expensive in Iceland
…but at the airport, you can buy booze tax-free. Make the most of this 'discount' and stock up for your trip. This can help you save a lot of money, especially if you are staying somewhere you can cook your own meals.
Alcohol is also not sold at grocery stores instead you will find it in special liquor stores. This might also save you time.
9. The Northern Lights are not visible in summer
The Northern Lights can appear in any season but for them to be visible to the naked eye you'll need a dark background. This is not the case in the summertime. The midnight sun brings us a lot of fantastic opportunities but a great Northern Lights experience is not one of them. In order to see the light, you will need to visit in winter, early spring or fall when the nights are dark.
10. Explore Reykjavík, the capital
When you see photos from Iceland, chances are that most of them are of beautiful nature. Everyone has this idea that Iceland is all about black sand beaches, glaciers, lava fields, and waterfalls, and they are right to some extent, but Reykjavík and other towns are just as charismatic and great to visit.
Make sure to make time in your travel plans to spend at least a day and an evening in Reykjavík. Its colorful quirkiness is sure to charm you!
11. You'll have to get naked at the swimming pools
One of the most loved experiences to have in Iceland is to bathe in a geothermal pool. This is all well and good, but many people don't know until they arrive that you actually have to take off all of your clothes and shower naked with the other visitors before getting in.
This does not necessarily mean that you get your own cubicle. The spaces are often open with a few shower heads and your fellow bathers bare bums at an arm's length.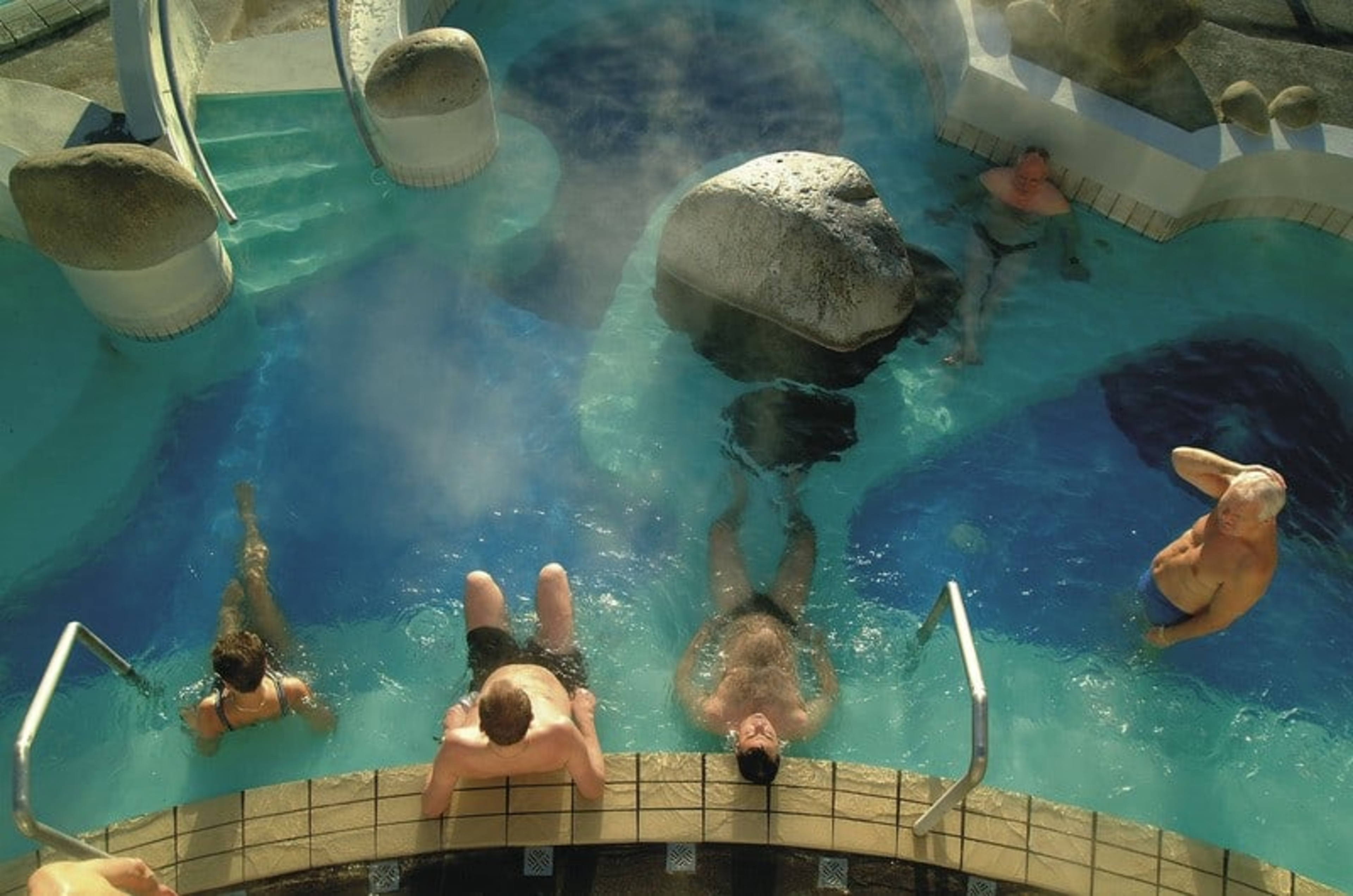 Make a mental note and see it as a challenge. This is your chance to break your regular norms and do something different. It is actually quite liberating once you get over the nakedness. And don't worry, no one is looking and no one cares!
12. There is no McDonald's, Starbucks, or 7/11… try something new
There was once a McDonald's in Iceland but they had to close. One could argue it was due to the population size, or Icelanders' need to be different. Some would say that Icelanders just wanted more authenticity in the fast food scene, but with the very popular KFC and Subway, that argument really wouldn't hold up.
Whatever reason it may be, Icelanders are just really into making their own. Some of those can be found along Iceland's Ring Road. At least in Akureyri and bigger towns but most are in Reykjavík.
Some super cool local chains are:
Lemon – Almost like Joe and the Juice. Serves juices, smoothies, and sandwiches.
Local – Salad place, best for takeaway.
Saffran – Healthy twist on Moroccan, chicken, pizzas and other lovely things. Great for families.
Serrano – Mexican fast food, great for takeaway.
13. The Westfjords are the most remote and quiet
If you are looking to find more sheep than people, the Westfjords might just be the place for you. The Ring Road is drawn right under the fjords so those who stay on track end up missing them. This is the case for most travelers and many don't get to them until their third or fourth visit.
The Westfjords are dominated by steep mountains, incredible hiking opportunities, charming fishing villages and stunning views. If you are looking to escape the crowds and possibly technology as well, do like Alexander Skarsgard and visit the Westfjords.
14. Icelandic weather is very unpredictable
There really is no denying this fact. The weather gods in Iceland are truly fickle beasts and change moods faster than you can say Eyjafjallajökull. Make sure you check the forecast the night before your travels and continue to do so through the trip. Dress in layers and bring waterproof clothing no matter the season.
Additional tip: Check the website road.is for road conditions and openings and if you are planning to go off road the safetravel.is website will come in handy.
15. Don't buy bottled water
Icelandic water is some of the best water you can find in the world. It is so clean that it is, in most cases, safe to drink from rivers and waterfalls. Don't get tricked into buying bottled water. Bring your own water bottle and fill up along the way.
About the author
Ragnheiður is a nature lover first and foremost, having studied anthropology and media at university. She also loves sharing her passion about her home country, Iceland, with everyone she meets. You'll often find her traveling the Icelandic countryside, especially the Westfjords and south coast, although her hometown is Reykjavík. Her interests include Icelandic food and drink, plants and wildlife, and cultural traditions.
View more posts by Ragnheiður Harpa
Related articles
Read more from our Fire and Ice blog.