10 Best Iceland Souvenirs – What to Bring Home
Most of us like to take home some kind of keepsake when visiting a foreign place. Some people collect spoons, other keychains, some go for the classic fridge magnets, but I personally like to make each item a little bit more traditional and related to each location.
In Iceland, there is no shortage of pickings. Most people like to visit the standard 'puffin shops' which specialize in souvenirs, but others like to dig a little deeper and find their version of a memento. Whichever traveler you might be, we can all agree on the selection being a bit overwhelming.
So to help you find your ideal thing we have put together a list of our top 10 souvenirs. Now anyone should be able to find something for them or their family and friends to take home and treasure the memories of when you visited the Land of Fire and Ice.
In the category, edible souvenirs, Icelandic candy surely takes the win. Candy is something Icelanders take great pride in and will boastfully tell you all about how their licorice is simply better than any other.

However, many people outside Scandinavia don't really appreciate the salty sweets and might, in that case, be better off with a lovely chocolate bar from Omnom or even a bag of Nóa Kropp (Icelandic Maltesers). The only downside to buying candy as souvenirs is that they don't last very long.
Iceland and art go together like gin and tonic! There simply must be something in the water. From music to theater to design and architecture, there seems to be no media that hasn't been mastered by the local people.
Furthermore the fashion scene is a huge aspect of creative Iceland, ranging from high-end to outdoorsy. Some of the more recognized ones are 66 North for outdoor clothing, Hildur Yeoman for playful and feminine dresses, Spaksmannspjarir for a more sophisticated Nordic look, and Farmers Market for the warm yet modern clothing described by the designer as 'countryside meets city'.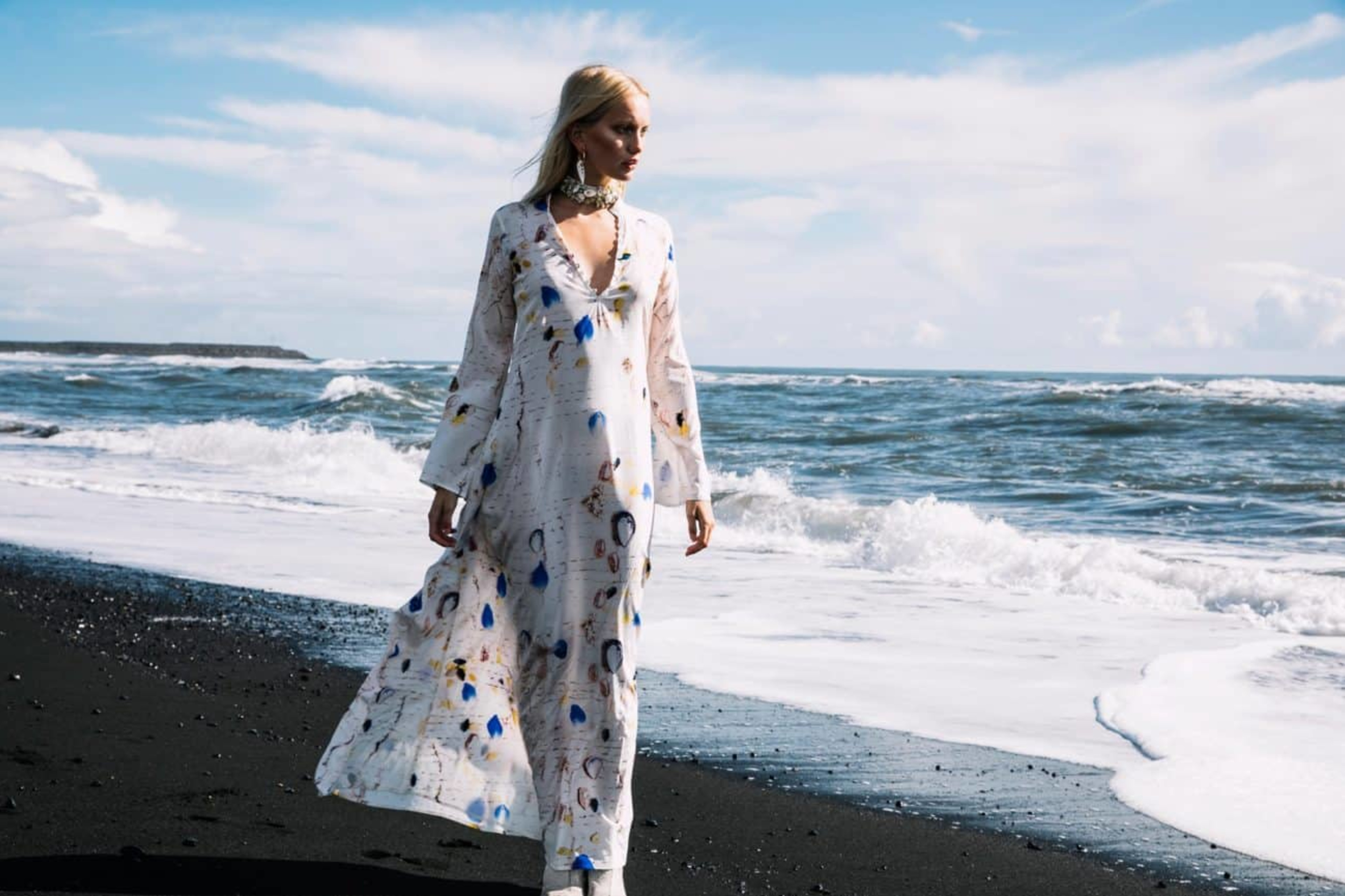 In downtown Reykjavík you'll find these shops and boutiques packed with lovely pieces. The main shopping street is Laugavegur and crossing it is Skólavörðustígur. Walk these two streets and you'll have no problems finding your Icelandic fashion gem to take home.
3. Icelandic skincare products
The idea of Iceland is pure, clean, and natural, so one might not be very surprised to hear that these elements have been implemented into a few skincare lines. The famous Blue Lagoon skincare line is produced from the natural silica mud that bubbles up with its hot spring water.
The silica is known to have amazing healing powers, ideal for acne and oily skin. The second feature is the green algae, which work wonders on aging and dry skin.
Sóley Organic Skincare uses handpicked Icelandic herbs to produce amazing creams and skincare. The tradition of picking herbs and producing lotions goes far back in Soley's – the company's namesake – family. Sóley left a successful film and theater career to pursue this family tradition.
Third on the list is SKYN Iceland, which creates the most amazing face masks, lotions, and serums completely vegan and cruelty-free. The owner Sarah got the idea when traveling to Iceland back in 2003 with the aim of curing her illness produced by stress. This is, therefore, the main focus of many of her products, specially made to rewind and relax.
Fourth, and last but definitely not least is BIOEFFECT, used by over 30% of Icelandic women. It is produced by three geneticists who spent over 10 years researching and mastering the products. Their beauty products stimulate the skin to renew itself and give the most amazing glow!
There is no denying this, Icelanders really like their drinks. For the most part, this just meant that the nightlife in Reykjavík was awesome, but in recent years this has also transitioned the production scene in Iceland.
The tasty liqueurs made from local produce and fresh Icelandic water, which once was only available to the locals, is now sold all around the world. The most famous of them all is brennivín, also called 'Black Death'. A burning Arctic cumin-tasting liquor, best-served ice cold. That said, many people say the best is Reyka vodka, an amazing clear and geothermally distilled vodka made with glacial water. In a cocktail or on the rocks, this drink is one to look out for.
Other fun ones include Tópas, Ópal, Björk and Birkir, Börkur, and Rabbabara (a rhubarb liqueur).
5. Traditional Icelandic lopapeysa
The Icelandic wool sweater, called lopapeysa in Icelandic, is more popular than ever and is now available in every color and different patterns. They are the perfect item to pick up early on in your trip and wear throughout your Icelandic adventures.
For those who aren't used to wearing this kind of harsh wool and are sensitive to itching, there are now even versions knitted from softer wool!
Pro tip: Try buying them at a flea market, the Red Cross shops, or outside the city, the prices are lower!
Icelandic authors have slowly but steadily been taking the leap into the international market in the last decades, usually through their dark crime stories or the ancient Viking sagas.
Up till now, children's literature hasn't received much room on the market, but since translations have risen with the growing tourist population they are really starting to kick off. Now you can find something for anyone written by some of the many astoundingly talented Icelandic writers.
For crime, you'll want to find Yrsa Sigurðardóttir or Arnaldur Indriðason, for kids look up Guðrún Helgadóttir or Bergljót Arnalds, for humor-lovers, find Hugleikur Dagsson, and for photographers find Rax (Ragnar Axelsson), Sigurgeir Sigurjónsson, or Páll Stefánsson.
7. Icelandic wool blankets
Icelandic wool blankets are in my opinion the perfect souvenir to take home from Iceland. Not only are long-lasting but they are also decorative and functional! They come in so many different colors and if you get the ones from Álafoss you are literally buying from one of the oldest companies in business in Iceland. Álafoss has been in business since 1896!
Other great places to get these blankets are at the Geysir shops, on Laugavegur or in Kringlan.
8. Hand-carved birds or furry sheep
You'll see these around town when exploring. I personally own one and love it! It's the perfect piece to place on a shelf to gaze over the room. You could even start collecting them!
This is definitely not something that is meant for tourists. Even though you can find them in some of those 'puffin shops'. They are made by many of the incredible woodworkers around Iceland. Who together create so many wonderful tiny figurines for us to enjoy.
The furry rams are then the second figurine I have come to love as a gift for my foreign friends. The designers are a mother/daughter duo who go by the name of Birch and Wool. The rams all have different names and everything about them is just too cute. Surely a great Iceland souvenir!
Be it Björk in a yellow dress, Icelandic wildlife, or even the neighborhood you stayed in Iceland, the poster scene is very aesthetically satisfying in Iceland. There are so many different artists and producers making wonderful posters each representing their own aspect of Iceland. I personally love Birds of Iceland and Icelandic Flora.
I do realize that I am being extremely corny. But the best souvenirs are always going to be the photos and videos you take. They will best preserve the memories Iceland has given you and be the things you'll love going through later.
Therefore my advice to you is to pick up one of those disposable cameras and get them printed once home. On one hand, the vintage filter these cameras put on the photos makes everyone look great and on the other, there is something beautifully nostalgic about having the photos in print!
About the author
Ragnheiður is a nature lover first and foremost, having studied anthropology and media at university. She also loves sharing her passion about her home country, Iceland, with everyone she meets. You'll often find her traveling the Icelandic countryside, especially the Westfjords and south coast, although her hometown is Reykjavík. Her interests include Icelandic food and drink, plants and wildlife, and cultural traditions.
View more posts by Ragnheiður Harpa
Related articles
Read more from our Fire and Ice blog.