Two weeks of road tripping on the famous Route 1
This tour offers an amazing variety of sights to see in Iceland, with glaciers, waterfalls and hot springs galore. You'll also enjoy views of mighty volcanoes including the famous Eyjafjallajökull.
With this itinerary, you'll visit unique places such as Lake Mývatn, Jökulsárlón glacier lagoon, Skaftafell National Park, the Golden Circle, with the possibility to relax at the Blue Lagoon, and much more.
Trip length
13 days / 12 nights
Season
Summer
(1 Apr–31 Oct)
On this tour you will...
Have time to explore each region of Iceland in depth

Stop for 2 nights in each location around the country

Witness jaw-dropping waterfalls, glaciers, and hot springs

Explore the much-loved Golden Circle route

Sail to the Westman Islands, where you can spot puffins

Get the chance to go whale watching in North Iceland
Top attractions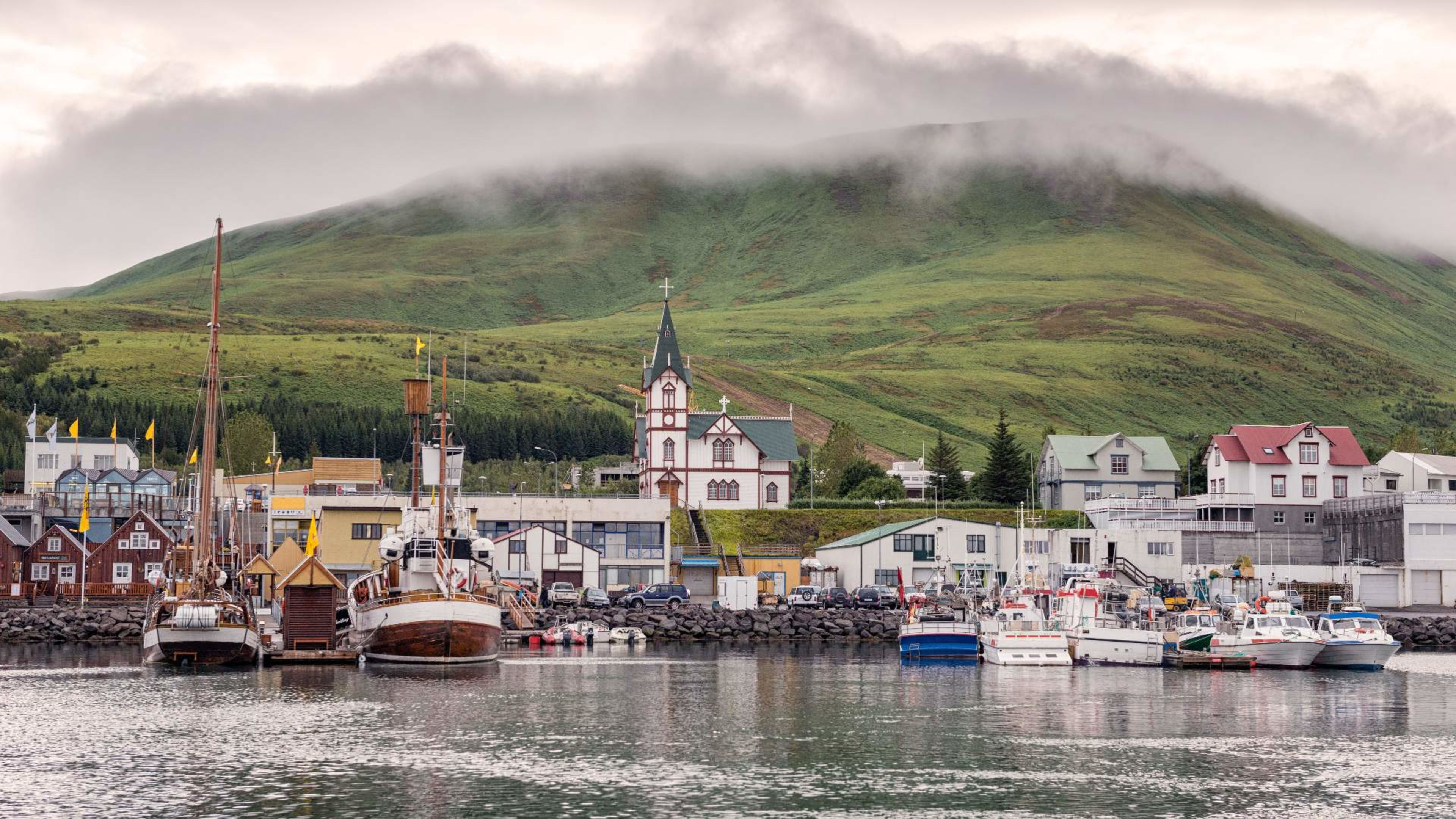 Vatnajökull Glacier & National Park
Jökulsárlón Glacier Lagoon
Skaftafell Nature Reserve
Why book a self-drive trip with Iceland Tours?
Start your tour on the date that suits you

24/7 emergency helpline in Iceland

Secure your booking with just a 5% deposit

New rental cars with 2 drivers as standard

Handpicked local accommodation options

Best Price Guarantee
Your 13-day self-drive itinerary
Driving distance
50 km (31 mi)
Your memorable Icelandic adventure begins the very moment you arrive at Keflavík Airport. After collecting your rental car, you'll drive to the capital, Reykjavík, for your first night in the Land of Fire and Ice.
Highlights
Extra activities
Extra
Extra
Driving distance
460 km (286 mi)
Today you start your journey around the island. You'll first make your way to Akureyri, also known as the capital of the north. In Borgarfjörður we recommend stopping by the magnificent Hraunfossar waterfalls, where the water seems to magically flow from the lava bed into the river below. You'll then pass through Skagafjörður, known for exceptional horse breeding, so keep an eye out for the fluffy and sturdy Icelandic horses.
Driving distance
300 km (186 mi)
You can spend the day relaxing or exploring more of Akureyri and its surroundings or you can opt to drive around the Tröllaskagi peninsula. Here you'll spot charming fishing villages hidden away in bays below rocky mountains. You could visit interesting historical sites such as the former episcopal Hólar and the open-air museum turf house in Glaumbær. And don't miss a stop at one of the most amazing swimming pools of the country at Hofsós. The view over the fjord here is absolutely incredible.
Staying in
Mývatn / Húsavík area
Driving distance
125 km (78 mi)
Your whole day is dedicated to the marvels of the Lake Mývatn Nature Reserve, renowned as one of Iceland's most inspiring, natural sites. You'll have plenty to admire and do, with waterfalls, lava formations, pseudo-craters, geothermal activities and many other wonders on the program!
And why not experience the area's geothermal activity with a dip in the Mývatn Nature Baths? You could soak in the milky blue geothermal waters overlooking the rugged volcanic landscape. Be prepared for a full day of adventure!
Staying in
Mývatn / Húsavík area
Driving distance
240 km (149 mi)
Today you may take the opportunity to take it easy in the Mývatn area or go around the Tjörnes peninsula. The detour is worth it to experience Iceland's most powerful waterfall, Dettifoss, which thunders down from its 44 meters high creating a deafening sound around you. You could also stop by the Ásbyrgi canyon where mythology meets nature. Or you could opt to book a whale-watching tour from Húsavík, the whale-watching capital of Iceland.
Staying in
Egilsstaðir area
Driving distance
200 km (124 mi)
Your itinerary now takes you towards the east coast of Iceland all the way to Egilsstaðir. On the way you might want to drive through Möðrudalur. Here you'll find the highest farm of the country (469 meters above sea level) located, like an oasis, amidst the highland, lunar landscape.
Staying in
Egilsstaðir area
Driving distance
80 km (50 mi)
Egilsstaðir has so much to offer! You could explore the largest forest in Iceland, where you'll find numerous hiking paths leading you through the home of wild reindeers. You could also visit the Hengifoss waterfall, drive to Seyðisfjörður, renowned as the most beautiful of the Eastfjords, and much more!
Driving distance
260 km (162 mi)
Today, you drive down the east coast where the rugged landscape will take you, at times, on high-perched roads on the mountains delivering breathtaking views down below. You could stop on the way at various locations such as Reyðarfjörður, where you'll find the local World War II museum.
Tonight you stay in Höfn, also known as the lobster capital of Iceland. Don't miss your chance to try ones of their specialties!
Driving distance
60 km (37 mi)
You get to pick what you want to do today, relax or take on an adventurous excursion. The lowlands of the vast Vatnajökull glacier offer numerous opportunities for interesting stops and further exploration. You could also opt to add a jeep or snowmobile tour on the vast ice cap to complement your itinerary.
Driving distance
270 km (168 mi)
Your next stop is Iceland's scenic south-east. You'll first drive past a splendid panorama of outlet glaciers belonging to Vatnajökull, Europe's largest ice cap. You'll then arrive at the mesmerizing beauty of Jökulsárlón glacier lagoon. This exceptional sight sits at the foot of Iceland's highest mountain, Hvannadalshnúkur.
The Skaftafell National Park is another area worth the visit. This oasis, surrounded by glaciers and black sand plains, offers great options for hikers, from easy walks to challenging hikes.
Driving distance
100 km (62 mi)
Have a leisurely day exploring the South Coast. We recommend a visit to the Folk Museum in Skógar. You could also take the opportunity to experience one of Iceland's best kept secret, the volcanic island of Heimaey in the Westman Islands archipelago.
Driving distance
300 km (186 mi)
Today, you will take in some of the top highlights of the South Coast of Iceland. This morning, stop to admire the powerful Skógafoss and Seljalandsfoss waterfalls.
Later, marvel at the attractions of the famous Golden Circle. First, the imposing Gullfoss waterfall, followed by the steaming power of the Geysir geothermal area. Here you can witness the Strokkur geyser propel warm water in the air every 5-10 minutes. Last but not least, the Þingvellir National Park. This is where the North American and Eurasian tectonic plates meet, creating this impressive landform.
You'll end the day in Reykjavík for your last night in Iceland.
Driving distance
50 km (31 mi)
It is now time for you to say goodbye to Iceland and fly home after an amazing journey through some of the world's most spectacular landscapes. Drive back to Keflavík Airport and return your rental car. If your flight is later in the day, you might want to enjoy a last stroll around Reykjavík or visit one last museum or attraction in the city.
What's included?
Budget, Comfort, or Quality accommodation every night
Continental breakfast every day
Rental car of your choice for 12 days
2 authorized drivers as standard
24/7 emergency helpline when you're in Iceland
VAT, taxes & service fees
Food & drink, unless otherwise stated
Attraction entrance fees, unless otherwise stated
Personal travel insurance
Choose your rental car
Included as standard:
Collision damage waiver
2 authorized drivers
Unlimited in-car Wi-Fi
CO₂ 95g/km
Toyota Aygo or similar
CO₂ 109g/km
Toyota Yaris or similar
CO₂ 196g/km
Volkswagen Golf or similar
CO₂ 273g/km
Volkswagen Golf or similar
CO₂ 114g/km
Toyota Yaris or similar
CO₂ 29g/km Plug-in hybrid
Kia Niro or similar
CO₂ 95g/km
Toyota Aygo or similar
CO₂ 109g/km
Toyota Yaris or similar
CO₂ 196g/km
Volkswagen Golf or similar
CO₂ 273g/km
Volkswagen Golf or similar
CO₂ 114g/km
Toyota Yaris or similar
CO₂ 29g/km Plug-in hybrid
Kia Niro or similar
CO₂ 217g/km Plug-in hybrid
Renault Captur or similar
CO₂ 116g/km
Dacia Duster 4×4 or similar
CO₂ 130g/km Plug-in hybrid
Hyundai Tucson Hybrid 4×4 or similar
CO₂ 176g/km
Kia Sportage 4×4 or similar
CO₂ 176g/km
Kia Sportage 4×4 or similar
CO₂ 213g/km
Toyota Land Cruiser 4×4 or similar
CO₂ 198g/km
Volkswagen Caravelle 4×4 or similar
CO₂ 198g/km
Volkswagen Caravelle 4×4 or similar
FAQs about our self-drive trips
On a self-drive trip with Iceland Tours, you'll be at the wheel of the rental car of your choice and free to go pretty much where you want, whenever you want.
We provide a detailed itinerary to help you plan your route and where you want to stop along the way. But it's up to you whether you want to stick to it or go your own way. If you do take detours, make sure that you aren't too far from your accommodation on any given night.
That said, it's a good idea to stick to the suggested itinerary if you've never visited Iceland before. Created by our Reykjavík-based travel experts, it contains plenty of things for you to and see and do on each leg of your trip. One thing's for sure: you won't be short on ideas!
You also get unlimited in-car Wi-Fi, so you can stay connected and use maps on your phone for navigation.
You have to be at least 20 years old to rent a car in Iceland, or 23 years old for larger vehicles like jeeps and vans. You'll need to have held a valid driver's license for at least 1 year and present a credit card when you collect your car.
You don't need an International Driving Permit unless your license is not in Latin script (for example, Arabic or Chinese).
Find out more about car rental in Iceland.
Yes! It's possible to add extra activities or extend your trip with additional nights in Reykjavík or the countryside. Check the itinerary above to see what activities are available on what day.
Soon you'll be able to add these customizations yourself on our website. Until then, just let us know in the 'Special requests' field at checkout if you want to add activities or extra days to your trip.
Once you've paid your deposit for your trip, we'll finalize bookings for your accommodation, rental car, and any activities. As soon as we receive confirmation of everything, we'll email your travel documents to you.
We aim to finalize everything within a few weeks of receiving your booking request, but in busy periods this might take longer. That said, you'll always receive all of your documents before your departure date.
You'll be able to pick up your rental car at Keflavík International Airport from the arrivals hall. Before your trip, we'll send you information about where to go in the terminal to collect your keys.
Make sure you have your driver's license and credit card ready when you collect your vehicle.
If you land late at night, you can use the out-of-hours phone at the pick-up desk to contact someone who will be able to help you.
You also have the option to collect your rental car in Reykjavík, if you're planning to spend some extra days in the city before your trip starts. If you'd like to do this, please let us know in the 'Special requests' box at checkout.
Don't take our word for it
See what hundreds of fellow travelers have to say about their trips with Iceland Tours.
Read customer reviews