Borgarfjörður: The Best Sights & Attractions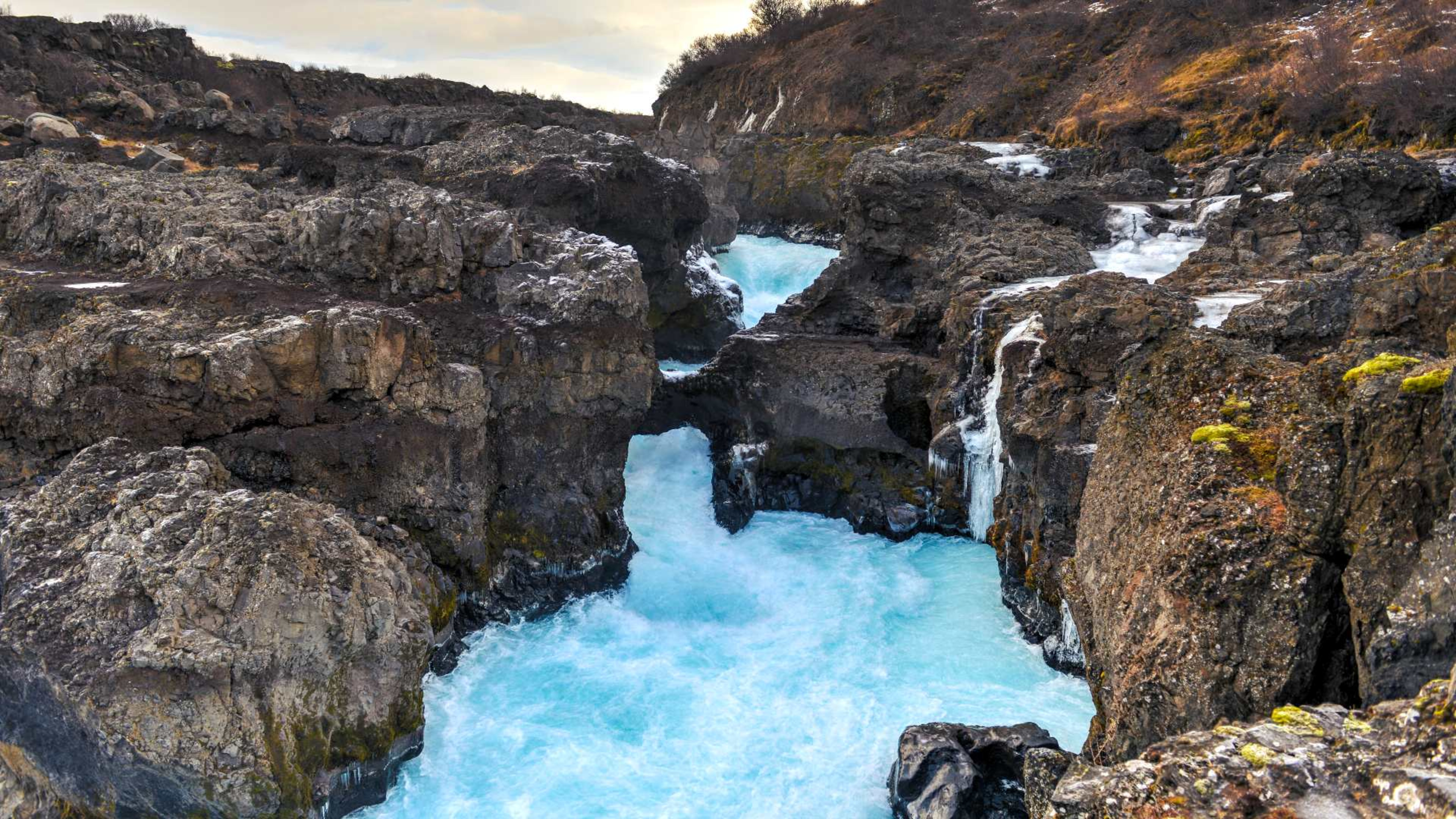 Borgarfjörður is a fertile valley in West Iceland. It is truly a geothermal utopia, home to the most powerful hot spring in Europe, the magical Krauma baths, and an enormous lava cave.
Historically, its natural warmth made the location an early settlement area, adding even more depth to its incredible saga and Viking tales that surround the place.
Borgarfjörður is home to the Silver Circle, the west's answer to the Golden Circle. The Circle tour is made up of four main stops: Krauma Geothermal Baths, the historical Reykholt, and the powerful Deildartunguhver hot spring, together with the waterfall duo Hraunfossar and Barnafoss.
The biggest town in Borgarfjörður is Borgarnes, beautifully situated on a hill towering over the ocean. There you can find all the basic services you might need: restaurants, grocery shops, pharmacies, liquor shops, swimming pools, gas stations etc.
Moreover the town is famous for its history, which ranges from the Vikings to the booming English and Danish commerce of the 19th century.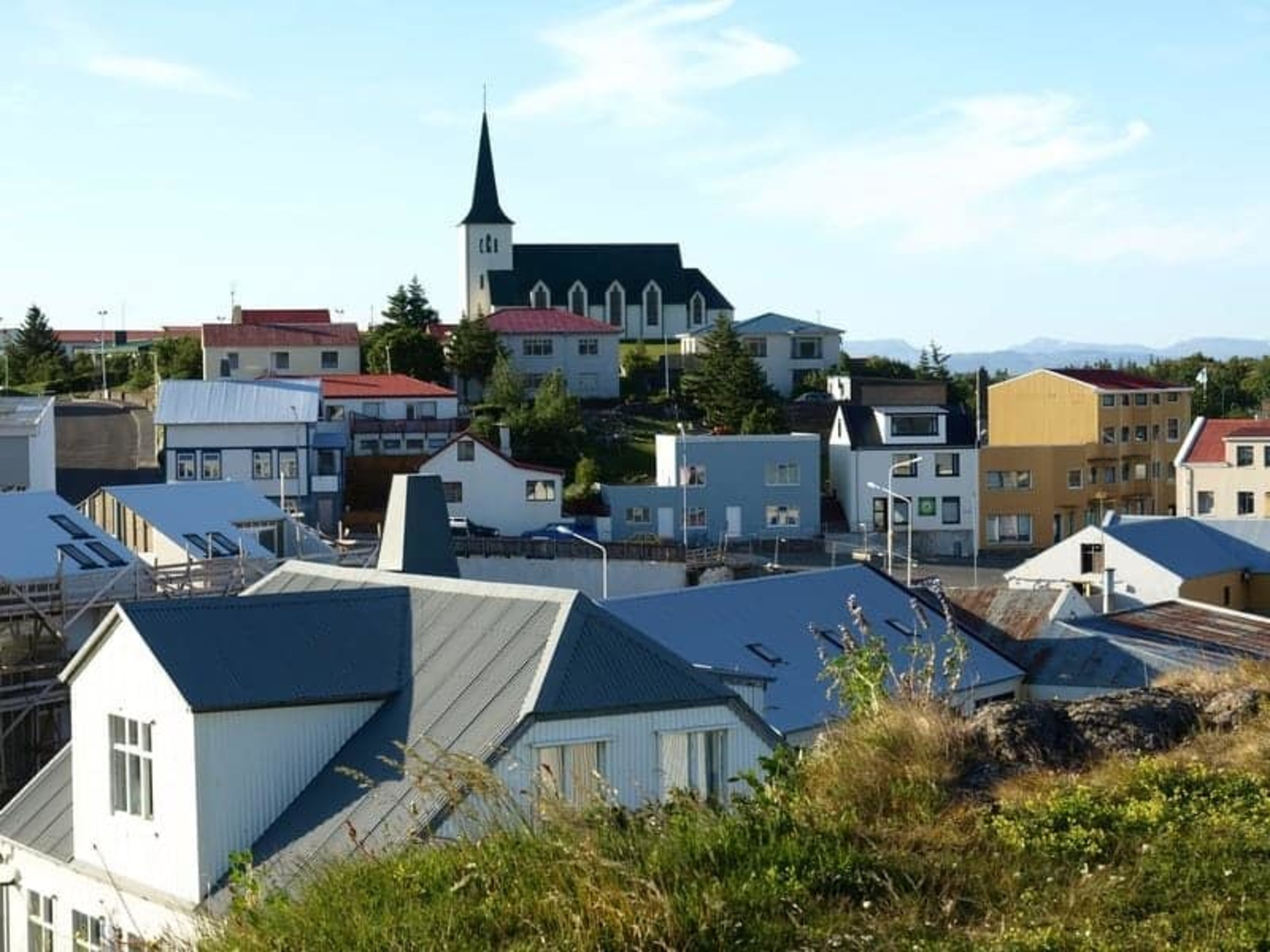 Fun facts about Borgarfjörður
Borgarfjörður is an exceptionally good place for a

Northern Lights tour

.

Borgarfjörður was home to many of the most famous

Vikings

, poets and saga characters including Snorri Sturluson, Egill Skallagrímsson, Skalla-Grímur Kveldúlfsson.

Skalla-Grímur, along with his clan, sailed to Iceland. Sadly, his father did not survive the journey and passed on the way. In those days, it was custom to lay the bodies of deceased in coffins and release the coffins to sea. So, following tradition, that they did. Upon arrival in Iceland, Skalla-Grímur started exploring Iceland. However, it wasn't until word came that his father's coffin had been found that he decided to build his farm. Right by the location that the coffin has drifted ashore. He ultimately named the farm Borg and the fjord Borgarfjörður and that's where the fjord gets its name from.
Geirabakarí (bakery) in Borgarnes was one of the shooting locations for Ben Stiller's film The Secret Life of Walter Mitty!
In Iceland, you can find two different places that are called Borgarfjörður. One of which is the Borgarfjörður we are talking about in this article, located only an hour away from the capital. However, the second one is Borgarfjörður eystri, which will take about seven hours to get to driving from Reykjavík. The latter is the second smallest populated village in Iceland, with only 103 inhabitants.
10 things to do in Borgarfjörður
1. Visit Reykholt & Snorrastofa
Reykholt and Snorrastofa are important sites in Icelandic history. Not only is it where chieftain, historian, and scholar Snorri Sturluson lived from 1206 until 1241, but it is also where he wrote his most famous work. Today this is widely credited as some of the best documentation of life in Northern Europe in that era.
His books, the Prose Edda, Egils saga, and Heimskringla, gave unique insight and incredible descriptions of people, events and everyday living that else would have been lost.
Furthermore, they served as inspiration to many world-renowned writers and composers, including J.R.R. Tolkien (The Lord of the Rings), G.R.R. Martin (A Song of Ice and Fire), as well as composer Richard Wagner (Der Ring des Nibelungen).
Today you can visit Snorrastofa, a visitor center in Reykholt dedicated to the remarkable historian and his chronicles. You can also enjoy guided tours, audio tours, an exhibition on Snorri's lifework, or simply browse the souvenir shop. Correspondingly filled with unique arts and crafts from local artists.
2. Hug some Goats at Háafell
A very well-kept secret in Iceland is that the country actually has its own breed of goat, simply called the Icelandic goat. They are in great danger of becoming extinct. However, one woman, Jóhanna, is working tirelessly to fight it!
Due to her amazing love for her goats, they are surprisingly friendly, some I would even go as far as calling cuddly. Furthermore, Icelandic goats haven't been this numerous in decades!
At the farm you can also buy produce from the goats, my personal favorite being the soap! Find out more about farms in Iceland.
Did you even visit Iceland if you didn't dip a toe in a geothermal spring? Quite frankly I'm not sure!
Anyhow, if you are going to choose one, Krauma Geothermal Baths should definitely make the shortlist. This place is the perfect blend of Nordic architecture and raw natural elements. The neighboring Deildartunguhver hot spring feeds it with its hot water and the elaborate facilities make sure you get the most out of it.
4. Check out Deildartunguhver
Deildartunguhver, previously mentioned as the feeding source for Krauma, is actually a star attraction on its own. The hot spring is not only the most powerful hot spring in the continent of Europe, but also the provider of hot water to most of the surrounding towns and villages.
Fun fact: The fern Struthiopteris fallax grows around Deildartunguhver, but this is the only place in Iceland and more exceptionally the whole world, where this plant grows!
5. Enjoy Hraunfossar & Barnafoss
Hraunfossar, whose name 'Lava Falls', is truly an awe-inspiring sight in West Iceland. Its water runs off the Langjökull glacier, filtering through the ground before spouting out in a cascade down Hallmundarhraun lava fields. All around it grow colorful birch bushes adding even more contrast to the black and white image of lava and water.
Close by, its brother waterfall Barnafoss runs wildly in between the two lava banks, creating yet another spectacular sight.
Barnafoss or 'Children's Waterfall', takes its name from a tale of two brothers. They are believed to have fallen into the waterfall when trying to get over the lava arch which ones stood over it.
After their tragic deaths, their mother destroyed the arch and places a curse on the waterfall. The curse said that no one would ever cross and make it over alive. Until now the story has only been thought to be a folktale but just to be sure, we advise against trying!
There are many different reasons why one would want to visit Húsafell. The scenery is simply amazing, their swimming pool is fantastic, Hotel Húsafell is the perfect luxury stay and, last but not least, it's the last location you can drive to in a regular car if you are planning on joining the Langjökull Ice Cave Experience.
7. Make a stop at Hvanneyri
From 15 May until 15 September, you can find a fabulous wool market, called Ullarselið, in Hvanneyri. This is a lovely opportunity to engage with local knitters and experts in Icelandic wool. Getting your hands on some first-class material and beautiful recipes.
The rest of the year, Hvanneyri, serves as an agricultural university dating back to the year 1889!
Hreppslaug is one of the oldest swimming pools in Iceland, operating since 1928. The pool takes its water from the nearby hot upstreams since the area is bustling with geothermal energy.
Nowadays it is mostly open during the summertime, from noon until late on the weekend but mostly in the evenings on weekdays
As you can read, it is all pretty chill in the countryside. Perhaps, as one would be if they would constantly be bathing in a pool like this one.
9. See the Settlement Center exhibitions
The Settlement Center in Borgarnes consists of two award-winning exhibitions.
First is the actual Settlement Exhibition, which is focused on the discovery of Iceland, who those Vikings were, why they left home, and how they did for themselves once having arrived. Here you will get to know some interesting characters. Learn all about the Icelandic parliament, Alþingi, and get an insight into life in the Viking era.
The second exhibition revolves around the gruesome Egil Skallagrímsson and his clan's complex tales of battles, witchcraft, heroes, love, and revenge. The audio tour is extremely well articulated with great care for detail. Especially considering that these events took place around the years 850 to 1000!
Audio tours are available in Icelandic, English, German, French, Spanish, Japanese, Polish, Italian, Russian, Finnish, Swedish, and Norwegian.
10. Adventure in Víðgelmir lava cave
Víðgelmir Lava Cave is one of the biggest lava caves in Iceland. Experts consider it to be one of the most extraordinary lava caves in the world. At almost 1,600 meters (5,250 feet) at its tallest, the cave's structure lies in waves forming huge spaces and with its narrow tunnels.
Recently a pathway was created in the cave making any kind of walks around it safer and more enjoyable. For anyone who visits the cave offers stellar ice formations and lava stalactites and stalagmites.
About the author
Ragnheiður is a nature lover first and foremost, having studied anthropology and media at university. She also loves sharing her passion about her home country, Iceland, with everyone she meets. You'll often find her traveling the Icelandic countryside, especially the Westfjords and south coast, although her hometown is Reykjavík. Her interests include Icelandic food and drink, plants and wildlife, and cultural traditions.
View more posts by Ragnheiður Harpa
Related articles
Read more from our Fire and Ice blog.